Advanced Diploma in Corporate Law
Empowering Legal Minds for the Modern Business Landscape
ABOUT THIS PROGRAMME
NALSAR's Advanced Diploma in Corporate Law programme, offered in collaboration with EBC Learning, is like no other. It is a comprehensive educational initiative focused on equipping participants with in-depth knowledge and exposure to practical problems in the field of corporate law. This programme aims to provide a solid foundation in corporate legal principles, governance structures, regulatory compliance, and emerging trends, enabling participants to excel in their careers while contributing to the success of corporations and businesses.
Taught by industry experts and professionals, it is a comprehensive and rigorous programme on corporate law that gets you ahead of your peers, covering theoretical, critical and practical training in corporate law. Through this programme, we aim to provide participants with deep knowledge and a holistic understanding of the corporate legal landscape.
The programme contains 6 courses given below.
Learn More

01 October 2023

31 August 2024
What else is included?
Who Should Take This Programme?
Law Students and Recent Law Graduates, Lawyers, In-House Counsels, Legal Professionals who wish to switch to corporate practice or looking to kickstart a career as Transactional Lawyers, Chartered Accountants, Company Secretaries, Cost & Work Accountants, Government Officials, Academicians, Managers, Chief Executive Officers, Company Directors, Prospective Entrepreneurs, may take this course. The course would help launch law students into a career in corporate law and help practitioners develop their corporate law practice. Business professionals, advisors and managers interested in a detailed legal understanding of corporate affairs may take this course to hone their legal skills.
This course is unique. The topics that I had been asked to teach were mainly practise oriented and the course problems were designed to give students an almost true-to-life experience of the legal challenges that corporate law practitioners can expect to face.
Nilanjan Sen
Delighted to participate in this as a faculty. As a practitioner of Insolvency Law, I was thrilled to learn about this program and its keen focus on helping lawyers and other professionals grasp concepts of corporate law including insolvency.
Abhishek Sharma
I hugely enjoyed teaching this course. The class conversations were enriching. There was a sense of camaraderie and zeal to learn. The support and advice from the organisers was brilliant.
Yugank Goyal
The programme's interactive and contemporary nature ensured that instructors were up to speed with current developments – both in the regulatory and market spaces. The dynamism and enthusiasm of the audience added to the joy of learning!
Ketan Mukhija
The programme is praiseworthy for its comprehensiveness and innovation. The variety of experts invited to teach made this course useful for a broad range of professionals.
Animesh Sinha
The programme is comprehensive in that it covers both the theoretical and practical aspects of corporate law. The focus on training those taking the course on corporate law-in-practice is clearly shown by its modules on contract drafting.
Badrinath Srinivasan
In the programme I taught Agency Problems in Company Law. Students comprised professionals from different fields of law practice. The sessions were designed with intensive corporate case studies and were highly interactive.
Ruby Panchal
EBC has done a commendable job of ticking all the right boxes by designing such an exhaustive course that touches upon all the essentials that a corporate professional in the present day needs to be aware of.
Victor Nayak
Overall the course was very rich & comprehensive. The teachers selected for the course were extremely knowledgeable, had practical experience, and were committed to delivering high-quality lectures.
Shamanna Balasubramanya
All the chapters covered in the course are handled by expert professionals in the respective area. The practical experiences shared by the teachers took us to the next level of understanding. I thoroughly enjoyed the course.
Shubha Hegde
E-Books Access from EBC Reader
Instructors
Abhinandan Malik
Director, EBC Group & EBC Learning
Abhinandan Malik is Editor (Publications) & Director at EBC, India's top law publisher. He is a graduate of NALSAR University of Law with an LLM from the University of Toronto. He is skilled in E-Learning, Legal Assistance, Legal Research, and Legal Writing. He has 10+ years of editorial experience, conceptualising, guiding and editing publications at EBC. He is fond of guiding students, especially in the area of legal writing—an area in which he also offers courses. At NALSAR, he was the founder and editor of an inter-law school magazine and law review called The Edict. It comprised students from the top national law schools across India as editors. At the University of Toronto, he specialised in private law. His thesis was on the Horizontal Application of Fundamental Rights. He was also invited to be part of the Academic Council for the Refresher Program in Law titled "Evolutions in Legal Pedagogy" offered by NALSAR University, under the Ministry of Human Resource Development.
Juhi Roy
Lead Instructional Designer M.A. Corporate Law & Advanced Corporate Law Programmes, EBC Learning
Juhi Roy is a graduate of ILS Law College, Pune. She has previously worked as a Senior Associate in the General Corporate team of Argus Partners, Kolkata. She has also worked with Cyril Amarchand Mangaldas, Mumbai; Network 18 Media and Investments Limited, Mumbai; Wadia Ghandy & Co., Mumbai; and SA Partners, Mumbai. Her primary expertise is in corporate transactional and corporate advisory work and has an extensive experience in leading teams conducting legal due diligence exercises for M&A transactions and negotiating and drafting transactional documents.
Pradyumna Anil Purohit
Instructor & Editor, EBC Learning
Pradyumna Anil Purohit is a Course Author, Instructional Designer, and Innovator at EBC Learning. He is also the Chief Academic Consultant at Mahatma Gandhi Centre for Peace Studies (MGCPS), O.P. Jindal Global University (OPJGU). Pradyumna was formerly an Assistant Professor at Jindal Global Law School (JGLS). He is a graduate in law with a major in Political Science and honours in Constitutional Law. Pradyumna pursued his LL.M. (Master of Laws) in International Development Law and Human Rights from the University of Warwick, England and was the recipient of the Upendra Baxi Scholarship. He has also earned an M.Litt. (Master of Letters) from School of History, Institute of Legal and Constitutional Studies, University of St. Andrews, Scotland. He is a passionate educator and has been vocal about academic governance for a long time. He has trained faculties and institutions for IQAC and processes under the NAAC and various ranking frameworks.
Dr Charu Mathur
Instructor, EBC Learning & AOR, Supreme Court
Dr Charu Mathur has rich and diverse expertise in corporate, commercial, civil, criminal and constitutional law matters. She is an Advocate on Record with the Supreme Court of India. She has represented parties which include cricketing bodies and educational institutions like IIT Jodhpur, NLU Jodhpur, BPUT Orissa, MPUAT Rajasthan, and private engineering and medicine colleges of Gujarat and Orissa.
Dr Pratima Narayan
Instructor, EBC Learning, Advocate, Mediator & Co-founder, Techlawlogi Consulting LLP
Dr Pratima Narayan is an Advocate, Mediator and Co-founder of Techlawlogi Consulting LLP. She is an Editor and Consultant at EBC Learning. She has offered courses on consumer law, arbitration, e-commerce, contract law and corporate law on the platform. She has authored a book on 'Electronic Commerce: Legal Compliance', published by Eastern Book Company. The book comprehensively outlines the various legal and regulatory frameworks and compliance for e-commerce players. Dr Pratima has served the legal academia for over two decades as a visiting faculty at various reputed law schools and business schools. Dr Pratima holds a Doctorate in Law from the National Law School of India University, Bengaluru.
Dr Aanchal M Dua
Instructor & Senior Consultant, EBC Learning
Dr Aanchal M Dua is an academician at heart and comes with more than 16 years of consolidated experience in the area of Legal Education and Research. She is a Doctorate in Law from Indian Law Institute, New Delhi and has been associated with various national and international universities like the Bangalore University, the University of Chicago and the University of Manchester. She specialises in Business/Corporate Law, Industrial Law, International Law and IPRs. She has authored a book on the Legal Environment of Business which is currently under publication and has a few publications to her credit in the area of Trade & Environment. She is associated with a start-up in the area of Financial Services as a legal advisor. She is very passionate about community services and leads a number of such projects with various NGOs engaged in the field.
Hemant Batra
Senior Legal Consultant & Lead - New Ventures & Growth, Shardul Amarchand Mangaldas & Co.
Hemant Batra is a Corporate, Business and Strategist commercial lawyer and serves as the Senior Legal Consultant & Lead - New Ventures & Growth at Shardul Amarchand Mangaldas & Co. He is also the founder of Kaden Boriss, an international business law firm, and holds the position of vice-president at SAARCLAW. As a due diligence expert, he has written articles and authored books on the subject.
Chhavi Pande
Principal Associate Litigation, Khurana & Khurana, Advocates and IP Attorneys
Chhavi Pande is a seasoned Principal Associate specializing in litigation within the banking and labor law sectors. With over 17 years of legal experience, she has handled a diverse range of cases including banking law, cyber laws, labor law, employment matters, family disputes, consumer disputes, criminal law, and POSH (Prevention of Sexual Harassment) cases. Additionally, Chhavi has extensive expertise in contract drafting and vetting, specifically in intellectual property laws, non-disclosure agreements, and lease agreements. She is also a recognized POSH Trainer, providing training and conducting workshops on workplace sexual harassment prevention and redressal. Chhavi's knowledge extends to various areas of law, and she actively contributes through her writings, blogs, and articles on POSH Act and other legal topics.
Aditya Singh Chandel
Partner, AZB & Partners
Aditya Singh Chandel is a Partner at AZB & Partners. He specialises in direct and indirect taxation, income tax laws, international tax, goods and services tax, foreign trade policy and customs law. He advises clients on a broad range of domestic and cross-border tax issues, with a special focus on mergers and acquisitions, joint ventures, restructurings, private equity transactions, permanent establishment issues, investment fund structuring, financing, aircraft leasing, employee incentives, succession planning and indirect tax issues across sectors.
Avinash Sharma
AOR, Supreme Court
Avinash Sharma specialises in Competition, Litigation and Arbitration. Avinash Sharma presently acts as an Advocate-on-Record at the Supreme Court of India. He is Competition Commission of India (CCI)'s Panel Counsel; Municipal Corporation of Delhi (North)'s AoR at the Supreme Court of India; International Centre for Alternative Dispute Resolution (ICADR)'s Panel Mediator; and Central University of Haryana's AoR at the Supreme Court of India.He has represented the parties in the Supreme Court, Delhi High Court, District Courts in Delhi, National Consumer Disputes Redressal Commission, State Consumer Disputes Redressal Commissions, DRT & DRAT, Cyber Appellate Tribunal, CAT, AFT, CCI, COMPAT, NCLT & NCLAT, NGT etc, duly reflected in around 60 reported judgments. Successfully resolved/ settled around 70 cases while acting as a DHCLSC's Mediator. Also acted as Delhi High Court appointed Local Commissioner in various lawsuits related to the property/ intellectual property matters.
Badrinath Srinivasan
Senior Manager (Legal), Directorate General of Hydrocarbons under MOPNG
Badrinath Srinivasan, LL.M., FIII, MCIArb, works at the Directorate General of Hydrocarbons (DGH), Ministry of Petroleum on Natural Gas, Government of India as Senior Manager (Legal). He advises DGH on contract related issues and handles high stakes international arbitrations and litigations in the petroleum exploration and production sector. He writes in various forums on contract law, drafting and dispute resolution. His research papers have been published in major research journals such as Economic and Political Weekly, Supreme Court Cases, Indian Journal of Arbitration Law, etc. His works have been cited in several reputed national and international publications and by the Hon'ble Madras High Court. Badrinath is a member of the Chartered Institute of Arbitrators and the Association of International Petroleum Negotiators and is a fellow of the Insurance Institute of India. He writes extensively in the Practical Academic Blog (www.praticalacademic.blogspot.in).
Ketan Mukhija
Partner, Dentons LinkLegal
Ketan Mukhija is a Partner at Link Legal. He is in the firm's corporate commercial practice in Delhi. Ketan has extensive experience in handling matters pertaining to corporate restructurings, investment transactions, private equity, banking and finance, energy and infrastructure, real estate and construction, telecommunications, and capital markets. He has also acted as transaction lead and advised several multinational corporations on their entry strategies into India and has diverse experience in providing corporate advice and representation. Ketan has provided advice and assistance in relation to bidding for government contracts, including advice in relation to compliance with anti-corruption and ethical standards prescribed by the specific government authorities. Ketan is an executive member of ASSOCHAM National Council on Law and Policy and Competition Law. He is a registered Insolvency Professional with the Insolvency and Bankruptcy Board of India.
Nilanjan Sen
Senior Partner, Seven Seas Partners LLP
An experienced lawyer with a family history in the profession, Nilanjan practices litigation in multiple jurisdictions across the country and is a specialist in diverse branches of law including writs, corporate, arbitration and ADR, consumer, civil, criminal and environment. He completed his LL.M. in International Dispute Settlement and Arbitration from Leiden Law School in the Netherlands and is additionally qualified as an Investment Treaty Arbitration specialist. He is currently a senior partner at 'Seven Seas Partners LLP', a boutique international law firm founded in 2019, with presence in India and the Netherlands (E.U.) and practicing on a variety of subjects of international as well as inter jurisdictional laws, including international arbitration, international tax and regulatory advisory. He is also on the Institutional Review Board of the Tata Medical Centre, a 130 million USD philanthropic cancer research centre and hospital managed & owned by the prestigious Tata Group.
Dr Yugank Goyal
Associate Professor, FLAME University
Dr Yugank Goyal is an Associate Professor of Public Policy at FLAME University. Earlier he taught at Jindal Global Law School. His tryst with Economics of Competition Law began while studying Masters at Erasmus University Rotterdam, where later he also pursued his PhD in law and economics. Given his interdisciplinary background, he enjoys making complex ideas simple, something visible in his treatment of Economics of Competition Law.
Abhishek Sharma
Partner, Dentons LinkLegal
Abhishek Sharma is a Partner with Link Legal and has over 13 years of experience. He has substantial experience of handling disputes concerning the aviation sector (including airports) and in handling civil and commercial disputes in various fora including the Supreme Court of India. He also routinely acts for clients in arbitration proceedings, both domestic as well as international. Abhishek regularly appears before the various benches of the National Company Law Tribunal as well as the National Company Law Appellate Tribunal in a large number of Insolvency and company law matters. He also advises and represents clients in complex matters before the Competition Commission of India and the Competition Appellate Tribunal. Prior to joining the firm, he was an associate in the law chambers of Mr Arun Jaitley, Senior Advocate. He has also completed an attachment with Allen & Gledhill, Singapore. Abhishek is the Addnl. Joint Secretary of the NCLT and NCLAT Bar Association.
Animesh Sinha
Partner, Animesh Sinha & Partners
Animesh Sinha is a Partner at Animesh Sinha & Partners. Previously, he worked at India's premier dispute resolution law firm Karanjawala & Co. wherein he represented India's top corporate houses and high-income individuals in courts as well as in arbitrations. He commenced his independent practice at the young age of 24 and represented the top insurance companies in complicated litigations before the Supreme Court, High Court of Delhi and various Appellate Tribunals. He specialises in insurance law and his services have been retained by several insurers, top companies and other insurance intermediaries in India. Moreover, he also specializes in arbitration, infrastructure, contracts and corporate law. Animesh appears in courts and arbitrations and has been retained by several companies for non-contentious legal advisory and transactions.
Tarun Mathur
Legal Counsel, Huntsman India
Tarun Mathur is a Legal Counsel with Huntsman India; has 10+ years of law firm, regulatory and consulting experience, with expertise in corporate, commercial, and legal compliance, M&A transactions and merger filings. He has worked with SEBI (Corporate Restructuring & Corporate Issues and Listing), Cyril Amarchand Mangaldas and Trilegal. He is an alumnus of NYU and NLU, Jodhpur; teaches "Transacting M&A Deals" at MNLU Mumbai, and has published on Merger Control in India (EBC). He is also counselling and advising business across the EMEAI Region. Advised on several strategic M&As/ joint-venture/ spin-off/ share sale-purchase and demerger transactions (from term-sheet to post-closing). Drafting and negotiating several commercial contracts. Assisting in several high stake commercial, employment, IPR, data theft litigations and arbitrations. External stakeholder management (including enforcement agencies and government entities). Closely working with senior management and leadership teams.
Tishampati Sen
AOR, Supreme Court
Tishampati Sen did his LL.B. from NLU Jodhpur, then was awarded a Graduate Faculty Scholarship from NUS (Singapore) - wherein he pursued his LL.M. from NUS. He is skilled in Document Drafting, Drafting Agreements, Civil, Corporate - Commercial Litigation, Arbitration, International Arbitration, Company law and Consumer Law. He started his career by working in J Sagar Associates and was one of the few lawyers there to practise in both transactional and litigation side of law. He then joined Mr Gopal Subramanium's chamber and thereafter set up his own practice. He is now an Advocate on Record of the Supreme Court, and has been involved in a number of key matters. He has successfully argued one of the primary and prominent class action matters involving data privacy, wherein he was representing the whistleblower in one of the first of its kind whistleblower suits in India. He was also a part of the special team formed under the aegis of the Hon'ble Supreme Court of India, to investigate and report on the management of affairs at the Lord Jagannatha Temple in Puri, Odisha.
Victor Nayak
Assistant Professor of Law, University of Engineering and Management
Victor started his academic career with the Institute of Law, Nirma University as an Assistant Professor in 2012 followed by the School of Law, Galgotias University, from 2015 till August 2021. Presently, he is associated with the University of Engineering & Management (UEM). In the area of corporate and allied laws, not only has he presented and participated in various academic discourses but has also delivered expert lectures and conducted certificate courses in corporate law and mediation law. During his academic career, he has dealt with subjects such as Company Law, ADR and Mediation Law, Competition Law, Corporate Governance, Corporate Insolvency, Mergers and Acquisitions, Law on Infrastructure Development, Property Law, Law of Contract and Interpretation of Statutes. Presently, Mr Nayak is pursuing his Doctorate Degree from WBNUJS, Kolkata in the area of Takeover Laws.
Akshay Sreevatsa
Senior Legal Specialist, Legal Academic, Kaleyra
Akshay Sreevatsa is a graduate of the National Law School of India (2011) and has earned his LL.M. from the University of California, Berkeley, with a specialisation in Public International Law. Akshay is a middle-stage aspiring academic and research scholar, having taught at various universities across India, and through this experience is highly receptive and enthusiastic about all fields of law, and teaching them physically and electronically at such places as NLSIU, NLU Delhi, and conducts law and literature classes pro bono as well, for interested students, and is also the co-chief editor & creator of India's first Legal Citation Manual, freely available at www.silmnanual.com. He lives in Bangalore with his Rhodesia Ridgeback, Slash, his Doberman, Trigger, and his numerous golf sets.
Adhiraj Gupta
Former Principal Associate, J. Sagar Associates
Adhiraj Gupta, MCL (Cambridge), B.A.LL.B(H) (National Law University, Odisha) is a qualified lawyer and registered attorney in India. He has practised primarily in the areas of mergers & acquisitions and general corporate commercial law with two premier Indian law firms—JSA and Luthra & Luthra Law Offices, India. In his 7 years of post-qualification experience, he has represented domestic and international clients in cross-borders M&A transactions, advising on foreign direct investments, joint ventures and exchange control laws.
Adhiraj has also advised international businesses in establishing operations in India and on various aspects of Indian law, including laws relating to information technology, data protection, consumer protection and insolvency. He has conducted lectures on a variety of corporate and commercial laws in several law schools in India, and serves as an Associate Editor of Cambridge Law Review and an editor of the blog run by the Centre for Corporate Law, National Law University, Odisha. He is a citizen of India and speaks fluent English, Hindi and Bengali.
Advanced Diploma Certificate
Upon completion of this programme, you will receive an Advanced Diploma Certificate from NALSAR University of Law.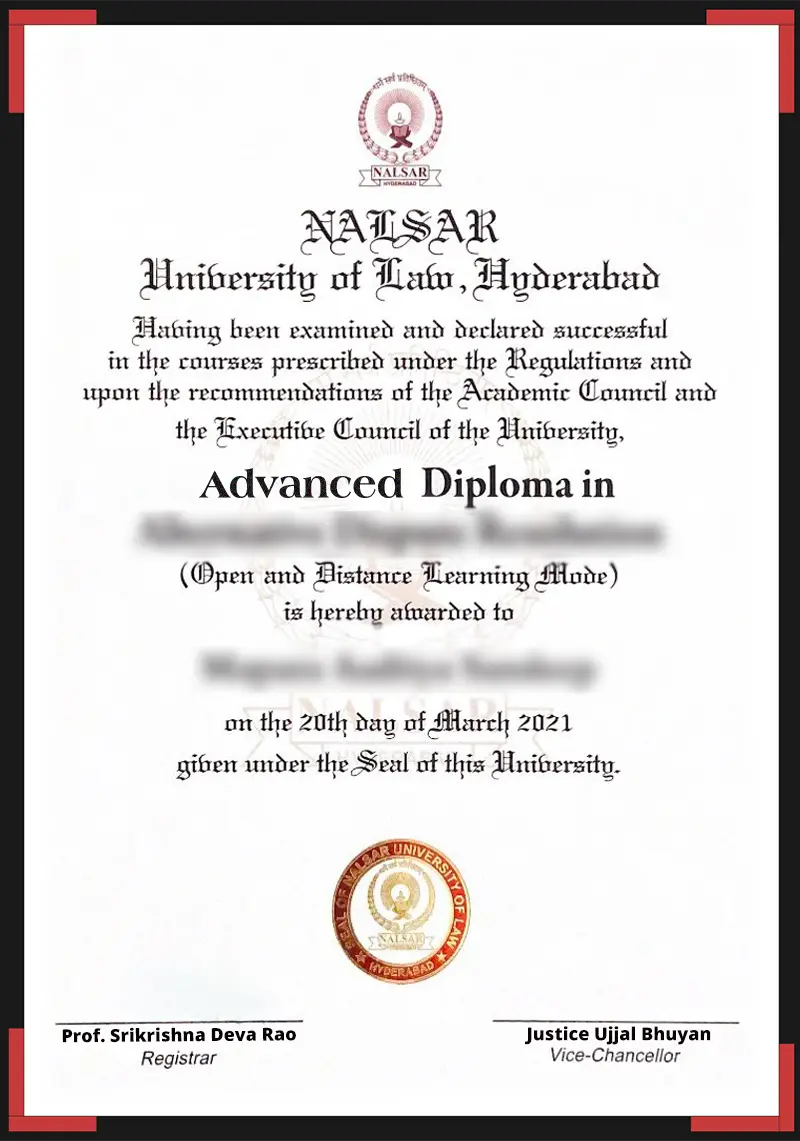 FAQs
EBC Learning is the educational arm of Eastern Book Company, a 75+ year-old company and India's leading law publisher and provider of legal textbooks, EBC Reader, EBC Webstore, EBC Explorer, Supreme Court Cases (SCC) and SCC Online.

NALSAR University of Law was established by Act No. 34 of 1998 to provide comprehensive legal education and to promote quality researches in the discipline of law and allied subjects both in regular as well as distance mode. Ever since its establishment, it has emerged as one of the preferred destinations for bright students from across India. It has been accredited by NAAC with 'A' grade ('A++' grade as per new grading system) with 3.60 CGPA out of 4.00 which is the highest score among all the National Law Schools and Law Colleges in the country.

No, the admission to the Programme is on a rolling basis.

Students who enrol are expected to have basic knowledge of Information and Communication Technology (ICT) and computer applications. Everyone should have a working webcam and microphone (either inbuilt or external). It is advised to have good internet speed. It is important to note that the EBC Learning LMS can be accessed through laptops or desktops via an internet browser such as Google Chrome. The ebclearning.com platform is not compatible with mobile devices.

Students are expected to put in at least 30 hours of study for each credit.

No, attendance is not compulsory.

Your evaluation for the programme will be based on various components. The evaluation will consist of assignments/projects/case studies, and an end-semester examination. For the assignments/projects/case studies, they will contribute 30 marks towards your final evaluation. The end-semester examination will contribute 70 marks towards your final evaluation.

In order to obtain an advanced diploma degree, a candidate should obtain a minimum of 50% marks or the equivalent grade, which is B, in every subject. In addition to achieving the minimum grade, you are also required to submit the assignments/projects/case studies as prescribed.

If a student fails to obtain the minimum grade of B, they will be given opportunities to reappear for the examination whenever it is conducted within a maximum period of two years from the date of admission. This will require the payment of repeat/supplementary examination fees and the continuation fee as specified. It is important to note that candidates who have already cleared a subject by scoring 50 marks or above are not allowed to reappear in the examination for the purpose of improving their marks or grade.