ABOUT THIS PROGRAMME
This comprehensive programme gives you a complete picture of how a company functions, companies' internal management and its interaction or conflict with state rules and regulations. The programme will help you master critical fundamental aspects of company law, which is the stepping stone for any transaction lawyer.
The path contains 8 courses given below.
Learn More

28 January 2023

22 July 2023
What's included?
Who Should Take This Course?
Legal professionals and students: The team at EBC Learning has designed this programme to enable a professional or a student to pursue a career in corporate law. The programme introduces the professional or a student to many practical aspects of corporate law practice in India. It is primarily a professional programme; however, law students can take the programme early on in their careers to get an edge over others and excel in internships. The course faculty are highly qualified practitioners who can help one build their corporate law practice.
Legal professionals practising any other branch of law may also take this course to re-orient themselves in corporate law. This course will provide the necessary tools and connections to start and grow your corporate practice.
Entrepreneurs: Today, compliance with corporate rules and regulations has also become a daunting task. Business strategy can be dictated and is often based on what is legally possible and required. Therefore it has become necessary for business professionals and managers to understand the fundamentals of corporate law. Right from how to decide on ownership-related issues, how to legally maintain a balance of power in the entity and then knowing how and what it takes to run it — this is all essential knowledge. If you are leading a startup, or managing a family business, or wish to expand and grow your business, knowing what the law provides is crucial. This course will provide you with the essential tools.
Corporate teams and in-house counsels: Given the rapid change in compliance requirements, very often in-house counsels of corporations are unable to get proper exposure and the necessary training in corporate law matters. In person re-training and upskilling can prove costly and often requires time off work. An online course with classes on weekends is the ideal solution. Business owners can use this course to train their teams in corporate law matters. In the programme you also make valuable connections with professionals across India, which can prove to be a crucial resource in times of need.
How Should One Approach This Course?
We have designed the course to make it as flexible as possible so that you may easily fit it in your schedules. The programme includes videos, texts and live lectures. To make the most of the programme, one is expected to watch the videos, and read the texts during the week — i.e before attending class on the weekend. In this way, you may watch and understand all the content at your leisure during the week and attend practical workshop-like classes on weekends.
Do note that you may find it hard to follow the workshop-like classes in case you have not pre-watched the videos that are a part of each course and read the pre-reading materials. The course also requires writing pre-class notes where you can comment on the readings and videos. The instructor uses these notes to address your queries in class.
Mode of Instruction & Class Timings
The live sessions will be conducted online, and courses will be available on the EBC Learning platform (ebclearning.com).
Session Timings: Afternoon & Evening Sessions on Saturdays.
E-Books Access from EBC Reader
Instructors
Abhinandan Malik
Director, EBC Group & EBC Learning
Abhinandan Malik is Editor (Publications) & Director at EBC, India's top law publisher. He is a graduate of NALSAR University of Law with an LLM from the University of Toronto. He is skilled in E-Learning, Legal Assistance, Legal Research, and Legal Writing. He has 10+ years of editorial experience, conceptualising, guiding and editing publications at EBC. He is fond of guiding students, especially in the area of legal writing—an area in which he also offers courses. At NALSAR, he was the founder and editor of an inter-law school magazine and law review called The Edict. It comprised students from the top national law schools across India as editors. At the University of Toronto, he specialised in private law. His thesis was on the Horizontal Application of Fundamental Rights. He was also invited to be part of the Academic Council for the Refresher Program in Law titled "Evolutions in Legal Pedagogy" offered by NALSAR University, under the Ministry of Human Resource Development.
Dr Charu Mathur
Instructor, EBC Learning & AOR, Supreme Court
Dr Charu Mathur has rich and diverse expertise in corporate, commercial, civil, criminal and constitutional law matters. She is an Advocate on Record with the Supreme Court of India. She has represented parties which include cricketing bodies and educational institutions like IIT Jodhpur, NLU Jodhpur, BPUT Orissa, MPUAT Rajasthan, and private engineering and medicine colleges of Gujarat and Orissa.
Dr Pratima Narayan
Instructor, EBC Learning, Advocate, Mediator & Co-founder, Techlawlogi Consulting LLP
Dr Pratima Narayan is an Advocate, Mediator and Co-founder of Techlawlogi Consulting LLP. She is an Editor and Consultant at EBC Learning. She has offered courses on consumer law, arbitration, e-commerce, contract law and corporate law on the platform. She has authored a book on 'Electronic Commerce: Legal Compliance', published by Eastern Book Company. The book comprehensively outlines the various legal and regulatory frameworks and compliance for e-commerce players. Dr Pratima has served the legal academia for over two decades as a visiting faculty at various reputed law schools and business schools. Dr Pratima holds a Doctorate in Law from the National Law School of India University, Bengaluru.
Juhi Roy
Lead Instructional Designer M.A. Corporate Law & Advanced Corporate Law Programmes, EBC Learning
Juhi Roy is a graduate of ILS Law College, Pune. She has previously worked as a Senior Associate in the General Corporate team of Argus Partners, Kolkata. She has also worked with Cyril Amarchand Mangaldas, Mumbai; Network 18 Media and Investments Limited, Mumbai; Wadia Ghandy & Co., Mumbai; and SA Partners, Mumbai. Her primary expertise is in corporate transactional and corporate advisory work and has an extensive experience in leading teams conducting legal due diligence exercises for M&A transactions and negotiating and drafting transactional documents.
Pradyumna Anil Purohit
Instructor & Editor, EBC Learning
Pradyumna Anil Purohit is a Course Author, Instructional Designer, and Innovator at EBC Learning. He is also the Chief Academic Consultant at Mahatma Gandhi Centre for Peace Studies (MGCPS), O.P. Jindal Global University (OPJGU). Pradyumna was formerly an Assistant Professor at Jindal Global Law School (JGLS). He is a graduate in law with a major in Political Science and honours in Constitutional Law. Pradyumna pursued his LL.M. (Master of Laws) in International Development Law and Human Rights from the University of Warwick, England and was the recipient of the Upendra Baxi Scholarship. He has also earned an M.Litt. (Master of Letters) from School of History, Institute of Legal and Constitutional Studies, University of St. Andrews, Scotland. He is a passionate educator and has been vocal about academic governance for a long time. He has trained faculties and institutions for IQAC and processes under the NAAC and various ranking frameworks.
Victor Nayak
Assistant Professor of Law, University of Engineering and Management
Victor started his academic career with the Institute of Law, Nirma University as an Assistant Professor in 2012 followed by the School of Law, Galgotias University, from 2015 till August 2021. Presently, he is associated with the University of Engineering & Management (UEM). In the area of corporate and allied laws, not only has he presented and participated in various academic discourses but has also delivered expert lectures and conducted certificate courses in corporate law and mediation law. During his academic career, he has dealt with subjects such as Company Law, ADR and Mediation Law, Competition Law, Corporate Governance, Corporate Insolvency, Mergers and Acquisitions, Law on Infrastructure Development, Property Law, Law of Contract and Interpretation of Statutes. Presently, Mr Nayak is pursuing his Doctorate Degree from WBNUJS, Kolkata in the area of Takeover Laws.
Animesh Sinha
Partner, Animesh Sinha & Partners
Animesh Sinha is a Partner at Animesh Sinha & Partners. Previously, he worked at India's premier dispute resolution law firm Karanjawala & Co. wherein he represented India's top corporate houses and high-income individuals in courts as well as in arbitrations. He commenced his independent practice at the young age of 24 and represented the top insurance companies in complicated litigations before the Supreme Court, High Court of Delhi and various Appellate Tribunals. He specialises in insurance law and his services have been retained by several insurers, top companies and other insurance intermediaries in India. Moreover, he also specializes in arbitration, infrastructure, contracts and corporate law. Animesh appears in courts and arbitrations and has been retained by several companies for non-contentious legal advisory and transactions.
Dr Aanchal M Dua
Instructor & Senior Consultant, EBC Learning
Dr Aanchal M Dua is an academician at heart and comes with more than 16 years of consolidated experience in the area of Legal Education and Research. She is a Doctorate in Law from Indian Law Institute, New Delhi and has been associated with various national and international universities like the Bangalore University, the University of Chicago and the University of Manchester. She specialises in Business/Corporate Law, Industrial Law, International Law and IPRs. She has authored a book on the Legal Environment of Business which is currently under publication and has a few publications to her credit in the area of Trade & Environment. She is associated with a start-up in the area of Financial Services as a legal advisor. She is very passionate about community services and leads a number of such projects with various NGOs engaged in the field.
Nilanjan Sen
Senior Partner, Seven Seas Partners LLP
An experienced lawyer with a family history in the profession, Nilanjan practices litigation in multiple jurisdictions across the country and is a specialist in diverse branches of law including writs, corporate, arbitration and ADR, consumer, civil, criminal and environment. He completed his LL.M. in International Dispute Settlement and Arbitration from Leiden Law School in the Netherlands and is additionally qualified as an Investment Treaty Arbitration specialist. He is currently a senior partner at 'Seven Seas Partners LLP', a boutique international law firm founded in 2019, with presence in India and the Netherlands (E.U.) and practicing on a variety of subjects of international as well as inter jurisdictional laws, including international arbitration, international tax and regulatory advisory. He is also on the Institutional Review Board of the Tata Medical Centre, a 130 million USD philanthropic cancer research centre and hospital managed & owned by the prestigious Tata Group.
Ruby Panchal
Assistant Professor, Jindal Global Law School
Ruby Panchal graduated with B.A. LL.B. (Hons.) from Rajiv Gandhi National University of Law, Patiala in 2016. During her under-graduation, she specialised in Business and Commercial Laws. After graduating from RGNUL, she worked briefly with Cyril Amarchand Mangaldas wherein she worked on real estate due diligence matters. Thereafter, she worked with Singh and Associates, New Delhi with their Disputes Team, wherein she worked on several arbitration and litigation matters pertaining to infrastructure arbitrations, defamation suits, white collar crimes, insolvency disputes etc. She then completed her LL.M. with specialization in Comparative International Dispute Resolution and Business Laws from Queen Mary, University of London in 2018. Later on, she joined O.P. Jindal Global University, Sonepat wherein she currently teaches at the Law School and the Business School. Besides teaching law, she volunteers her time towards Robinhood Army in teaching children from slum areas.
Certificate
Complete this course and exercises to earn a certificate. Share it with your friends, colleagues, and employers.*
*You must Subscribe to get a certificate.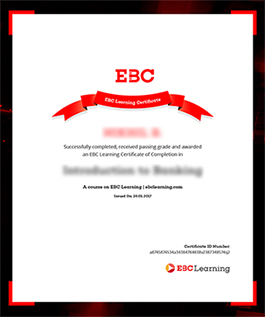 What Next?
FAQs
EBC Learning is the educational arm of Eastern Book Company, a 75+ year-old company and India's leading law publisher and provider of legal textbooks, EBC Reader, EBC Webstore, EBC Explorer, Supreme Court Cases (SCC) and SCC Online.

No, admission to the programme is conducted on a rolling basis, and there is no entrance test requirement.

Students who enrol are expected to have basic knowledge of Information and Communication Technology (ICT) and computer applications. Everyone should have a working webcam and microphone (either inbuilt or external). It is advised to have good internet speed. It is important to note that the EBC Learning LMS can be accessed through laptops or desktops via an internet browser such as Google Chrome. The ebclearning.com platform is not compatible with mobile devices.

A live session will be of approximately 60-90 minutes, including time for class discussions and faculty interaction.

A minimum of 8 hours of reading engagement is required. In addition, 2 hours per week would be required to watch Annex-Course video tutorials and solve class assignments.

Live recordings will be made available to you soon after the session. However, you will lose any marks allocated to Class Participation and In-Class Assignments.

One must score a minimum of 65% to get receive a certificate in the programme.

The EBC Learning programmes stand for academic excellence and mastery of the subject. Our team is dedicated to helping the student achieve that mastery. Therefore in order to successfully complete the programme one must score a minimum of 65%. However, in case one does not score a minimum of 65% students can, upon payment of a fee, be admitted to the next cohort of the programme. In limited cases, students can also re-submit their select assignments for re-evaluation.

We believe in the small group teaching format and so aim to keep the class size small. We would try our best to organise participants into small groups of students.

There will be no end examination. You will be evaluated on a continual basis throughout the programme. You will be evaluated on pre-class assignments, class participation and final assignments for each course.