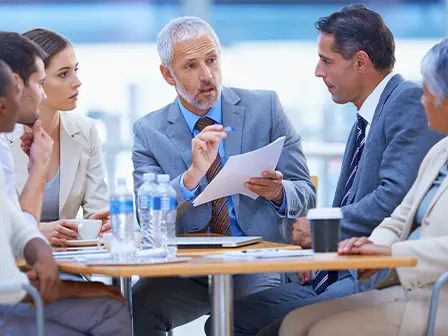 25 February 2023

31 March 2024
About this Course
The course looks at the legal structure of various forms of business organisation. Each format is different and has its own advantages and disadvantages. The forms start from simple and go on to becoming more complex as they cater to business and functional requirements. In this course we compare the different forms. This course will be the grounding for studying agency problems in the next course and then finally learning to appreciate when to choose one form over another. This course will explore the following business organisation form:
Sole proprietorship
Partnership
Limited liability partnership
Cooperative society
Company
Who should take this course?
Law Students and Recent Law Graduates, Lawyers, In-House Counsels, Legal Professionals who wish to switch to corporate practice or looking to kickstart a career as Transactional Lawyers, Chartered Accountants, Company Secretaries, Cost & Work Accountants, Government Officials, Academicians, Managers, Chief Executive Officers, Company Directors, Prospective Entrepreneurs, may take this course. The course would help launch law students into a career in corporate law and help practitioners develop their corporate law practice. Business professionals, advisors and managers interested in a detailed legal understanding of corporate affairs may take this course to hone their legal skills.
PREREQUISITES
This course is part of EBC Learning — CII, Upskill Diploma in Advanced Corporate Law Programme. To make the most of the course, it is recommended that you should have an understanding of the following:
Instructors
Dr Pratima Narayan
Instructor, EBC Learning & Advocate & Mediator, Co-founder, Techlawlogi Consulting LLP
Dr Pratima Narayan is an Advocate, mediator and Founder Partner of Techlawlogi Consulting LLP, a law firm based out of Bengaluru. She is an Editor and Consultant at EBC Learning. She has offered courses on Consumer law, Arbitration, Ecommerce, Contract law and corporate law on the platform. She has authored a book on "Electronic Commerce: Legal compliance", published by Eastern Book Company. The book comprehensively outlines the various legal and regulatory frameworks and compliance for e-commerce players. Dr Pratima has served the legal academia for over two decades as a visiting faculty at various reputed law schools and business schools. Dr Pratima holds a doctorate in law from the National Law School of India University, Bengaluru.
Dr Charu Mathur
Instructor, EBC Learning & AOR, Supreme Court
Dr Charu Mathur has rich and diverse expertise in corporate, commercial, civil, criminal and constitutional law matters. She is an Advocate on Record, Supreme Court of India. She has represented parties which include cricketing bodies and educational institutions like IIT Jodhpur, NLU Jodhpur, BPUT Orissa, MPUAT Rajasthan, private engineering and medicine colleges of Gujarat and Orissa.
Certificate
Complete this course and exercises to earn a certificate. Share it with your friends, colleagues, and employers.*
*You must Subscribe to get a certificate.