Fundraising, M&A, Private Equity & Capital Markets
Mastering the legal framework and key considerations
ABOUT THIS PROGRAMME
The programme will make you a master of all investment transactions. The learning path will take you from the basics to the advanced level. It will equip you to suggest the best route for investing or attracting investment for your client. Capital is at the heart of any business, and you will gain expertise on the financial health of a firm.
The path contains 6 courses given below.
Learn More

03 August 2023

16 December 2023
What's included?
Who Should Take This Course?
Legal professionals and students: The team at EBC Learning has designed this programme to enable a young professional or a student to pursue a career in corporate law. The programme deals with many practical aspects of raising funds and pitching to investors. It is primarily a professional course. However, law students can take the programme early in their careers to get an edge over others and excel in their internships.
Legal professionals practising any other branch of law, may also take this course to re-orient themselves in corporate law. This course will provide the necessary tools and connections to start and grow your corporate practice.
Entrepreneurs: Today, no business can flourish without capital and the right investor. Therefore, it becomes imperative to understand how to pitch to an investor to seal the deal, the different kinds of funds operating in India, advantages and disadvantages of different kinds of funds — this is all essential knowledge to raise capital. If you are leading a startup, managing a family business, or wish to expand and grow your business knowing what the law provides is crucial. This course will provide you with the essential tools.
Chartered Accountants: Often, as part of helping your client to raise funds for the business, you will have to assist your client in making a pitch book, and explain the funding process and the entire process from raising capital to executing the transaction document. This course will provide you with the essential tools.
Corporate teams and in-house counsels: Given the rapid change in compliance requirements, legal rules and regulations, very often, in-house counsels of corporations are unable to get proper exposure and the necessary training in corporate law matters. In-person re-training and upskilling can prove costly and often requires time off work. An online course with classes on weekends is the ideal solution. Business owners can use this course to train their teams in corporate law matters. In the programme, you also make valuable connections with professionals across India, which can be a crucial resource in times of need.
How Should One Approach This Course?
We have designed the course to make it as flexible as possible so that you may easily fit it into your schedule. The programme includes videos, texts and live lectures. To make the most of the programme, one is expected to watch the videos, and read the texts during the week — i.e before attending class on the weekend. In this way, you may watch and understand all the content at your leisure during the week and attend practical workshop-like classes on weekends.
Do note that you may find it hard to follow the workshop-like classes in case you have not pre-watched the videos that are a part of each course and read the pre-reading materials. The course also requires writing pre-class notes where you can comment on the readings and videos. The instructor uses these notes to address your queries in class.
Mode of Instruction & Class Timings
The live sessions will be conducted online, and courses will be available on the EBC Learning platform (ebclearning.com).
Session Timings: Afternoon & Evening Sessions on Saturdays.
E-Books Access from EBC Reader
Print Books Posted to Learners
Instructors
Aditya Singh Chandel
Partner, AZB & Partners
Aditya Singh Chandel is a Partner at AZB & Partners. He specialises in direct and indirect taxation, income tax laws, international tax, goods and services tax, foreign trade policy and customs law. He advises clients on a broad range of domestic and cross-border tax issues, with a special focus on mergers and acquisitions, joint ventures, restructurings, private equity transactions, permanent establishment issues, investment fund structuring, financing, aircraft leasing, employee incentives, succession planning and indirect tax issues across sectors.
Amrish Garg
Co-Founder, Finvox Analytics
Amrish Garg has 12+ years experience in fund raising, transaction support services, business valuations, purchase price allocation and complex instruments valuations. He is a Chartered Financial Analyst (CFA, US), Chartered Accountant (All India 6th Rank in Chartered Accountancy Final Examination) and has done his B.Com (H) from Shri Ram College of Commerce (2005 Batch) He has experience across sectors such as Enterprise SAAS, Tech Startups, FMCG, Retail, Food & Agri, specialized manufacturing, logistics etc. He is a registered Valuer under the provisions of Section 247 of the Companies Act, 2013. He has written various articles on valuation for ICAI publications He is an eminent speaker having delivered lecturers on valuation and related topic at various summits and events organized by registered valuer organizations, MBA institutes, study circles and corporates. Amrish is also a Life Coach and Motivational Speaker.
Avinash Sharma
AOR, Supreme Court
Avinash Sharma specialises in Competition, Litigation and Arbitration. Avinash Sharma presently acts as an Advocate-on-Record at the Supreme Court of India. He is Competition Commission of India (CCI)'s Panel Counsel; Municipal Corporation of Delhi (North)'s AoR at the Supreme Court of India; International Centre for Alternative Dispute Resolution (ICADR)'s Panel Mediator; and Central University of Haryana's AoR at the Supreme Court of India.He has represented the parties in the Supreme Court, Delhi High Court, District Courts in Delhi, National Consumer Disputes Redressal Commission, State Consumer Disputes Redressal Commissions, DRT & DRAT, Cyber Appellate Tribunal, CAT, AFT, CCI, COMPAT, NCLT & NCLAT, NGT etc, duly reflected in around 60 reported judgments. Successfully resolved/ settled around 70 cases while acting as a DHCLSC's Mediator. Also acted as Delhi High Court appointed Local Commissioner in various lawsuits related to the property/ intellectual property matters.
Gandharv Jain
Co-Founder, Finvox Analytics
Gandharv Jain is a Co-Founder of Finvox Analytics, a research and analytics firm. He at Finvox provides high-quality and cost-effective solutions on live projects to global investment banking firms, valuation advisory firms, private equity funds and accounting firms at the time of unpredictable increased workflows when the firms do not have resources to meet the critical demand. For the consulting practice in India, Finvox handles matters relating to mergers and acquisitions, valuations, due diligence and business advisory. Gandharv's specialization includes conducting business valuations, raising funds for clients in the shape of venture capital / structured finance and structuring corporate transactions in compliance with foreign exchange laws, advice on general corporate issues, due diligence, entry and exit strategies to foreign investors, and advice on Corporate Law, Securities Exchange Regulations.
Juhi Roy
Lead Instructional Designer M.A. Corporate Law & Advanced Corporate Law Programmes, EBC Learning
Juhi Roy is a graduate of ILS Law College, Pune. She has previously worked as a Senior Associate in the General Corporate team of Argus Partners, Kolkata. She has also worked with Cyril Amarchand Mangaldas, Mumbai; Network 18 Media and Investments Limited, Mumbai; Wadia Ghandy & Co., Mumbai; and SA Partners, Mumbai. Her primary expertise is in corporate transactional and corporate advisory work and has an extensive experience in leading teams conducting legal due diligence exercises for M&A transactions and negotiating and drafting transactional documents.
Ketan Mukhija
Partner, Dentons LinkLegal
Ketan Mukhija is a Partner at Link Legal. He is in the firm's corporate commercial practice in Delhi. Ketan has extensive experience in handling matters pertaining to corporate restructurings, investment transactions, private equity, banking and finance, energy and infrastructure, real estate and construction, telecommunications, and capital markets. He has also acted as transaction lead and advised several multinational corporations on their entry strategies into India and has diverse experience in providing corporate advice and representation. Ketan has provided advice and assistance in relation to bidding for government contracts, including advice in relation to compliance with anti-corruption and ethical standards prescribed by the specific government authorities. Ketan is an executive member of ASSOCHAM National Council on Law and Policy and Competition Law. He is a registered Insolvency Professional with the Insolvency and Bankruptcy Board of India.
Certificate
Complete this course and exercises to earn a certificate. Share it with your friends, colleagues, and employers.*
*You must Subscribe to get a certificate.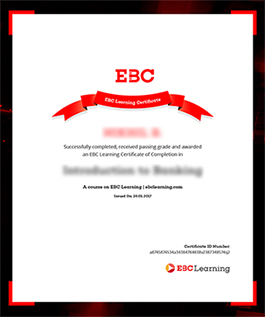 What Next?
Enrol for the following courses to take your learning to the next level:
FAQs
EBC Learning is the educational arm of Eastern Book Company, a 75+ year-old company and India's leading law publisher and provider of legal textbooks, EBC Reader, EBC Webstore, EBC Explorer, Supreme Court Cases (SCC) and SCC Online.

No, admission to the programme is conducted on a rolling basis, and there is no entrance test requirement.

Students who enrol are expected to have basic knowledge of Information and Communication Technology (ICT) and computer applications. Everyone should have a working webcam and microphone (either inbuilt or external). It is advised to have good internet speed. It is important to note that the EBC Learning LMS can be accessed through laptops or desktops via an internet browser such as Google Chrome. The ebclearning.com platform is not compatible with mobile devices.

A live session will be of approximately 60-90 minutes, including time for class discussions and faculty interaction.

A minimum of 8 hours of reading engagement is required. In addition, 2 hours per week would be required to watch Annex-Course video tutorials and solve class assignments.

Live recordings will be made available to you soon after the session. However, you will lose any marks allocated to Class Participation and In-Class Assignments.

One must score a minimum of 65% to get receive a certificate in the programme.

The EBC Learning programmes stand for academic excellence and mastery of the subject. Our team is dedicated to helping the student achieve that mastery. Therefore in order to successfully complete the programme one must score a minimum of 65%. However, in case one does not score a minimum of 65% students can, upon payment of a fee, be admitted to the next cohort of the programme. In limited cases, students can also re-submit their select assignments for re-evaluation.

We believe in the small group teaching format and so aim to keep the class size small. We would try our best to organise participants into small groups of students.

There will be no end examination. You will be evaluated on a continual basis throughout the programme. You will be evaluated on pre-class assignments, class participation and final assignments for each course.