ABOUT THIS PROGRAMME
By regulating corporate anti-competitive behaviour, competition law aims to maintain market competition. In this course, we study the Competition Act, 2002 with the necessary foundational course of Competition Economics which would give you the necessary tools and strategic inputs for you to build an anti-trust practice of your own. In this programme, you would learn to advise clients on sale, purchase and supply agreements, collaborations, pricing agreements, merger control, monopolistic behaviour, unfair trade practices etc.
The path contains 2 courses given below.
Learn More

14 December 2023

06 January 2024
Course List
1
ACL3: 21. Competition Economics
Learn about the different nuances of economics in relation to competition law.
Learn about the course
10 February 2024 - 31 March 2024
2
ACL3: 22. Competition Law
By regulating corporate anti-competitive behaviour, competition law aims to maintain market competition. In this course, we study the Competition Act, 2002 in light of building anti-trust practice of your own.
Learn about the course
17 February 2024 - 31 March 2024
What's included?
Who Should Take This Course?
Legal professionals and students: The team at EBC Learning has designed this programme to enable a young professional or a student to pursue a career in competition law. The programme deals with many practical aspects of competition law, the filing process, different kinds of markets, and the interplay between economics and competition law. It is primarily a professional course; however, law students can take the programme early on in their careers to get an edge over others and excel in their internships. The course speakers are highly qualified practitioners who can help one build their competition law practice.
Legal professionals practising any other branch of law may also take this course to re-orient themselves in corporate and competition law. This course will provide you with the necessary tools and connections to start and grow your competition law practice.
Corporate teams and in-house counsels: Given the rapid change in compliance requirements, very often in-house counsels of corporations are unable to get proper exposure and the necessary training in corporate law matters. In-person re-training and upskilling can prove costly and often requires time off work. An online course with classes on weekends is the ideal solution. Business owners can use this course to train their teams in corporate law matters. In the programme, you also make valuable connections with professionals across India, which can prove to be a crucial resource in times of need.
How Should One Approach This Course?
We have designed the course to make it as flexible as possible so that you may easily fit it into your schedule. The programme includes videos, texts and live lectures. To make the most of the programme, one is expected to watch the videos, and read the texts during the week — i.e before attending class on the weekend. In this way, you may watch and understand all the content at your leisure during the week and attend practical workshop-like classes on weekends.
Do note that you may find it hard to follow the workshop-like classes in case you have not pre-watched the videos that are a part of each course and read the pre-reading materials. The course also requires writing pre-class notes where you can comment on the readings and videos. The instructor uses these notes to address your queries in class.
Mode of Instruction & Class Timings
The live sessions will be conducted online, and courses will be available on the EBC Learning platform (ebclearning.com).
Session Timings: Afternoon & Evening Sessions on Saturdays.
E-Books Access from EBC Reader
Instructors
Avinash Sharma
AOR, Supreme Court
Avinash Sharma specialises in Competition, Litigation and Arbitration. Avinash Sharma presently acts as an Advocate-on-Record at the Supreme Court of India. He is Competition Commission of India (CCI)'s Panel Counsel; Municipal Corporation of Delhi (North)'s AoR at the Supreme Court of India; International Centre for Alternative Dispute Resolution (ICADR)'s Panel Mediator; and Central University of Haryana's AoR at the Supreme Court of India.He has represented the parties in the Supreme Court, Delhi High Court, District Courts in Delhi, National Consumer Disputes Redressal Commission, State Consumer Disputes Redressal Commissions, DRT & DRAT, Cyber Appellate Tribunal, CAT, AFT, CCI, COMPAT, NCLT & NCLAT, NGT etc, duly reflected in around 60 reported judgments. Successfully resolved/ settled around 70 cases while acting as a DHCLSC's Mediator. Also acted as Delhi High Court appointed Local Commissioner in various lawsuits related to the property/ intellectual property matters.
Dr Pratima Narayan
Instructor, EBC Learning, Advocate, Mediator & Co-founder, Techlawlogi Consulting LLP
Dr Pratima Narayan is an Advocate, Mediator and Co-founder of Techlawlogi Consulting LLP. She is an Editor and Consultant at EBC Learning. She has offered courses on consumer law, arbitration, e-commerce, contract law and corporate law on the platform. She has authored a book on 'Electronic Commerce: Legal Compliance', published by Eastern Book Company. The book comprehensively outlines the various legal and regulatory frameworks and compliance for e-commerce players. Dr Pratima has served the legal academia for over two decades as a visiting faculty at various reputed law schools and business schools. Dr Pratima holds a Doctorate in Law from the National Law School of India University, Bengaluru.
Dr Yugank Goyal
Associate Professor, FLAME University
Dr Yugank Goyal is an Associate Professor of Public Policy at FLAME University. Earlier he taught at Jindal Global Law School. His tryst with Economics of Competition Law began while studying Masters at Erasmus University Rotterdam, where later he also pursued his PhD in law and economics. Given his interdisciplinary background, he enjoys making complex ideas simple, something visible in his treatment of Economics of Competition Law.
Certificate
Complete this course and exercises to earn a certificate. Share it with your friends, colleagues, and employers.*
*You must Subscribe to get a certificate.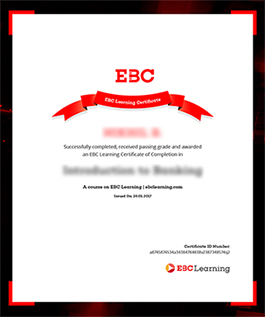 What Next?
FAQs
EBC Learning is the educational arm of Eastern Book Company, a 75+ year-old company and India's leading law publisher and provider of legal textbooks, EBC Reader, EBC Webstore, EBC Explorer, Supreme Court Cases (SCC) and SCC Online.

No, admission to the programme is conducted on a rolling basis, and there is no entrance test requirement.

Students who enrol are expected to have basic knowledge of Information and Communication Technology (ICT) and computer applications. Everyone should have a working webcam and microphone (either inbuilt or external). It is advised to have good internet speed. It is important to note that the EBC Learning LMS can be accessed through laptops or desktops via an internet browser such as Google Chrome. The ebclearning.com platform is not compatible with mobile devices.

A live session will be of approximately 60-90 minutes, including time for class discussions and faculty interaction.

A minimum of 8 hours of reading engagement is required. In addition, 2 hours per week would be required to watch Annex-Course video tutorials and solve class assignments.

Live recordings will be made available to you soon after the session. However, you will lose any marks allocated to Class Participation and In-Class Assignments.

There will be no end examination. You will be evaluated on a continual basis throughout the course. You will be evaluated on pre-class assignments, class participation and final assignments for each module. As the last assignment of the course, you will have the option to appear for a viva or submit a substantial piece of writing for evaluation.

One must score a minimum of 65% to get receive a certificate in the programme.

The EBC Learning programmes stand for academic excellence and mastery of the subject. Our team is dedicated to helping the student achieve that mastery. Therefore in order to successfully complete the programme one must score a minimum of 65%. However, in case one does not score a minimum of 65% students can, upon payment of a fee, be admitted to the next cohort of the programme. In limited cases, students can also re-submit their select assignments for re-evaluation.

We believe in the small group teaching format and so aim to keep the class size small. We would try our best to organise participants into small groups of students.