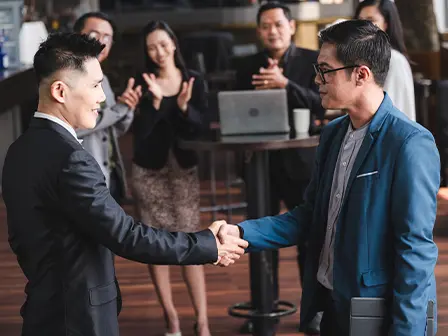 04 November 2023

31 March 2024
About this Course
Capital is quite vital for running a business. In a world of popular culture of Shark Tank and Dragons' Den, it is essential to understand how deals are pitched, what are the necessary things to be pitch-perfect and understand business valuation. The course gives an overview of the initial stage of preparing the valuation, and how to pitch business ideas to investors. This course will also take you through the different funds and explain their advantages. This course will take you through the life cycle of a deal.
Who should take this course?
Law Students and Recent Law Graduates, Lawyers, In-House Counsels, Legal Professionals who wish to switch to corporate practice or looking to kickstart a career as Transactional Lawyers, Chartered Accountants, Company Secretaries, Cost & Work Accountants, Government Officials, Academicians, Managers, Chief Executive Officers, Company Directors, Prospective Entrepreneurs, may take this course. The course would help launch law students into a career in corporate law and help practitioners develop their corporate law practice. Business professionals, advisors and managers interested in a detailed legal understanding of corporate affairs may take this course to hone their legal skills.
PREREQUISITES
This course is part of EBC Learning — CII, Upskill Diploma in Advanced Corporate Law Path. To make the most of the course, it is recommended that you should have an understanding of Company Law & Shareholder Litigation Fundamentals and the following:
Instructors
Gandharv Jain
Co-Founder, Finvox Analytics
He is a Co-Founder of Finvox Analytics, a research and analytics firm. He at Finvox provides high-quality and cost-effective solutions on live projects to global investment banking firms, valuation advisory firms, private equity funds and accounting firms at the time of unpredictable increased workflows when the firms do not have resources to meet the critical demand. For the consulting practice in India, Finvox handles matters relating to mergers and acquisitions, valuations, due diligence and business advisory. Gandharv's specialization includes conducting business valuations, raising funds for clients in the shape of venture capital / structured finance and structuring corporate transactions in compliance with foreign exchange laws, advice on general corporate issues, due diligence, entry and exit strategies to foreign investors, and advice on Corporate Law, Securities Exchange regulations.
Amrish Garg
Co-Founder, Finvox Analytics
Amrish has 12+ years of experience in fundraising, transaction support services, business valuations, purchase price allocation and complex instruments valuations. He is a Chartered Financial Analyst (CFA, US), Chartered Accountant (All India 6th Rank in Chartered Accountancy Final Examination) and has done his B.Com (H) from Shri Ram College of Commerce (2005 Batch). He has experience across sectors such as Enterprise SAAS, Tech Startups, FMCG, Retail, Food & Agri, specialised manufacturing, logistics etc. He is a registered Valuer under the provisions of Section 247 of the Companies Act, 2013. He has written various articles on valuation for ICAI publications. He is an eminent speaker having delivered lectures on valuation and related topics at various summits and events organised by registered valuer organisations, MBA institutes, study circles and corporates. Amrish is also a Life Coach and Motivational Speaker.
Juhi Roy
Instructor, EBC Learning
Juhi Roy is a graduate of ILS Law College, Pune. She has previously worked as a Senior Associate in the General Corporate team of Argus Partners, Kolkata. She has also worked with Cyril Amarchand Mangaldas, Mumbai; Network 18 Media and Investments Limited, Mumbai; Wadia Ghandy & Co., Mumbai; and SA Partners, Mumbai. Her primary expertise is in corporate transactional and corporate advisory work and has an extensive experience in leading teams conducting legal due diligence exercises for M&A transactions and negotiating and drafting transactional documents.
Certificate
Complete this course and exercises to earn a certificate. Share it with your friends, colleagues, and employers.*
*You must Subscribe to get a certificate.