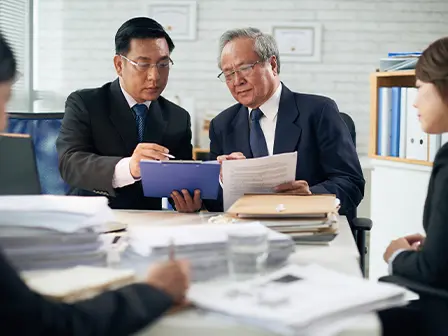 16 March 2023

31 March 2024
About this Course
The course will critically analyse the practical aspects of choosing a business entity from among the following:
Partnerships
HUF
Joint ventures
LLPs
LLCs
OPCs
Producer companies
Other types of companies
Cooperative societies
Trusts, societies, waqf and section 8 company (charitable purposes)
You will learn what factors lead you to decide on a particular entity. What are the possible advantages and disadvantages of choosing one entity over the other? Additionally, the live session will include a discussion based on a pre-class assignment. The class will have a matrix on which the students will have to engage and debate to choose the correct entity for a specific business model.
At the conclusion of the course, you will be able to advise your prospective clients on the forms of business organisation. You may have to persuade them to choose one form over the other and sometimes recommend conversion from one to another as per their desired goals. You will be able to suggest or provide consultancy to many startups upon their form of business organisation. You can help them make informed choices about what is financially, economically (in terms of liability) and even a socially viable option at hand. You can also monetise this skill as a lot of startups suffer from no to negligible and even bad legal advice during the initial days while setting up their business.
Who should take this course?
Law Students and Recent Law Graduates, Lawyers, In-House Counsels, Legal Professionals who wish to switch to corporate practice or looking to kickstart a career as Transactional Lawyers, Chartered Accountants, Company Secretaries, Cost & Work Accountants, Government Officials, Academicians, Managers, Chief Executive Officers, Company Directors, Prospective Entrepreneurs, may take this course. The course would help launch law students into a career in corporate law and help practitioners develop their corporate law practice. Business professionals, advisors and managers interested in a detailed legal understanding of corporate affairs may take this course to hone their legal skills.
PREREQUISITES
This course is part of EBC Learning — CII, Upskill Diploma in Advanced Corporate Law Programme. To make the most of the course, it is recommended that you should have an understanding of the following:
1. Forms of Business Organisation — Sole Proprietorship Partnership, LLP, Cooperatives & Company
Instructors
Dr Pratima Narayan
Instructor, EBC Learning & Advocate & Mediator, Co-founder, Techlawlogi Consulting LLP
Dr Pratima Narayan is an Advocate, mediator and Founder Partner of Techlawlogi Consulting LLP, a law firm based out of Bengaluru. She is an Editor and Consultant at EBC Learning. She has offered courses on Consumer law, Arbitration, Ecommerce, Contract law and corporate law on the platform. She has authored a book on "Electronic Commerce: Legal compliance", published by Eastern Book Company. The book comprehensively outlines the various legal and regulatory frameworks and compliance for e-commerce players. Dr Pratima has served the legal academia for over two decades as a visiting faculty at various reputed law schools and business schools. Dr Pratima holds a doctorate in law from the National Law School of India University, Bengaluru.
Ruchi Jain
Independent M&A Advisor
Ruchi is a rank holder CA with 15+ years of rich and diversified Big 4 (PwC & EY) and industry experience in M&A, strategy, deals structuring, tax due diligence, income tax, company law, FEMA, SEBI, and other allied regulatory laws. She has advised domestic as well as international clients, promoters/founders, startups and investors on various inbound and outbound buy side and sell side transactions, business structuring, overseas expansions, India entry strategies etc. She also works with family offices on tax matters, family trust, succession planning, transactions, and restructuring.
Kushank Sindhu
Advocate, Counsel & Partner, Sigma Chambers (Advocates & Solicitors)
Kushank Sindhu is a lawyer licensed to practice in India. He is enrolled with the Bar Council of India, Bar Council of Delhi and the Delhi High Court Bar Association. On account of his experience on the corporate advisory, transactions and litigation sides, he is well qualified to provide a 360 degree view on complex legal issues. He has not only played a pivotal role in assisting various startups by providing them with a holistic view on diverse legal issues but has advised established companies on taxation issues. He has successfully represented various companies as also individuals before the High Court of Delhi in complex tax matters. He also has experience in handling money laundering. His area of practice also includes handling arbitration as also insolvency matters. Apart from his regular legal practice, he engages considerably in academic research and writing.
Certificate
Complete this course and exercises to earn a certificate. Share it with your friends, colleagues, and employers.*
*You must Subscribe to get a certificate.