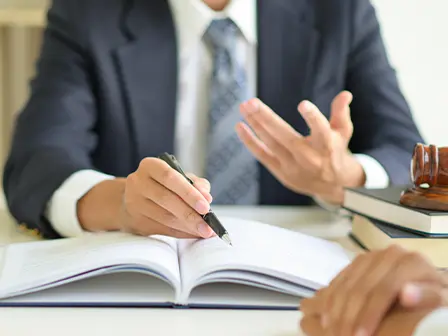 04 May 2023

31 March 2024
About this Course
Incorporating a company or another business organisation for your client is one of the regular tasks that you will perform as a corporate lawyer. The course engages with multiple simple and complex problems related to the incorporation of a company, LLP and partnership. Some of them include the following:
Drafting of MoA and AoA
Post-incorporation advice and compliances
Conversion of one form of business to another
Effect of pre-incorporation contracts
The course will engage in the actual incorporation process of various types of companies and an LLP. It will enable you to do A-Z activities, processes and compliances related to the incorporation process.
Moreover, the course will also prepare you with ancillary matters that relate to the incorporation process such as change of names, alteration of MoA, etc. It is a one-stop guide and training course for incorporation and registration. The course will feature day-to-day problems that a lawyer or CS faces with respect to incorporation. This is a clinical course to equip you with essential skills.
The exercises will be based on preparing the checklists and understanding the compliances. The students are expected to prepare mock or demo companies or LLP and associated problems by filing out appropriate forms and being up to date about the method of converting one form of business to another at the MCA website.
At the end of the course, anyone will be confident to incorporate a company or an LLP or handle any matter associated with incorporation or registration. This course will enable you to build a practice of your own related to incorporation. It is monetarily rewarding and provides a complete solution from advising to choosing a form of business to incorporate or registering one.
Who should take this course?
Law Students and Recent Law Graduates, Lawyers, In-House Counsels, Legal Professionals who wish to switch to corporate practice or looking to kickstart a career as Transactional Lawyers, Chartered Accountants, Company Secretaries, Cost & Work Accountants, Government Officials, Academicians, Managers, Chief Executive Officers, Company Directors, Prospective Entrepreneurs, may take this course. The course would help launch law students into a career in corporate law and help practitioners develop their corporate law practice. Business professionals, advisors and managers interested in a detailed legal understanding of corporate affairs may take this course to hone their legal skills.
It is important that the students enrolling only for this course should also take up EBC Learning's courses on Forms of Business Organisation and LLP and Contract Drafting or the UDACL.
PREREQUISITES
This course is part of EBC Learning — CII, Upskill Diploma in Advanced Corporate Law Path. To make the most of the course, it is recommended that you should have an understanding of the following:
1. Forms of Business Organisation — Sole Proprietorship Partnership, LLP, Cooperatives & Company
2. Introduction to Contract Drafting
Instructors
Dr Charu Mathur
Instructor, EBC Learning & AOR, Supreme Court
Dr Charu Mathur has rich and diverse expertise in corporate, commercial, civil, criminal and constitutional law matters. She is an Advocate on Record, Supreme Court of India. She has represented parties which include cricketing bodies and educational institutions like IIT Jodhpur, NLU Jodhpur, BPUT Orissa, MPUAT Rajasthan, private engineering and medicine colleges of Gujarat and Orissa.
Victor Nayak
Assistant Professor of Law, University of Engineering and Management
Victor started his academic career with the Institute of Law, Nirma University as an Assistant Professor in 2012 followed by the School of Law, Galgotias University, from 2015 till August 2021. Presently, he is associated with the School of Law and Justice, Adamas University. In the area of corporate and allied laws, not only has he presented and participated in various academic discourses but has also delivered expert lectures and conducted certificate courses in corporate law and mediation law. During his academic career, he has dealt with subjects such as Company Law, ADR and Mediation Law, Competition Law, Corporate Governance, Corporate Insolvency, Mergers and Acquisitions, Law on Infrastructure Development, Property Law, Law of Contract and Interpretation of Statutes. Presently, Mr Nayak is pursuing his Doctorate Degree from WBNUJS, Kolkata in the area of Takeover Laws.
Pradyumna Anil Purohit
Instructor & Editor, EBC Learning
Pradyumna Anil Purohit is a Course Author, Instructional Designer, and Innovator at EBC Learning. He is also the Chief Academic Consultant at Mahatma Gandhi Centre for Peace Studies (MGCPS), O.P. Jindal Global University (OPJGU). Pradyumna was formerly an Assistant Professor at Jindal Global Law School (JGLS). He is a graduate in law with a major in Political Science and honours in Constitutional Law. Pradyumna pursued his LL.M. (Master of Laws) in International Development Law and Human Rights from the University of Warwick, England and was the recipient of the Upendra Baxi Scholarship. He has also earned an M.Litt. (Master of Letters) from School of History, Institute of Legal and Constitutional Studies, University of St. Andrews, Scotland. He is a passionate educator and has been vocal about academic governance for a long time. He has trained faculties and institutions for IQAC and processes under the NAAC and various ranking frameworks.
Juhi Roy
Instructor, EBC Learning
Juhi Roy is a graduate of ILS Law College, Pune. She has previously worked as a Senior Associate in the General Corporate team of Argus Partners, Kolkata. She has also worked with Cyril Amarchand Mangaldas, Mumbai; Network 18 Media and Investments Limited, Mumbai; Wadia Ghandy & Co., Mumbai; and SA Partners, Mumbai. Her primary expertise is in corporate transactional and corporate advisory work and has an extensive experience in leading teams conducting legal due diligence exercises for M&A transactions and negotiating and drafting transactional documents.
Kushank Sindhu
Advocate, Counsel & Partner, Sigma Chambers (Advocates & Solicitors)
Kushank Sindhu is a lawyer licensed to practice in India. He is enrolled with the Bar Council of India, Bar Council of Delhi and the Delhi High Court Bar Association. On account of his experience on the corporate advisory, transactions and litigation sides, he is well qualified to provide a 360 degree view on complex legal issues. He has not only played a pivotal role in assisting various startups by providing them with a holistic view on diverse legal issues but has advised established companies on taxation issues. He has successfully represented various companies as also individuals before the High Court of Delhi in complex tax matters. He also has experience in handling money laundering. His area of practice also includes handling arbitration as also insolvency matters. Apart from his regular legal practice, he engages considerably in academic research and writing.
Certificate
Complete this course and exercises to earn a certificate. Share it with your friends, colleagues, and employers.*
*You must Subscribe to get a certificate.