Intellectual Property Registration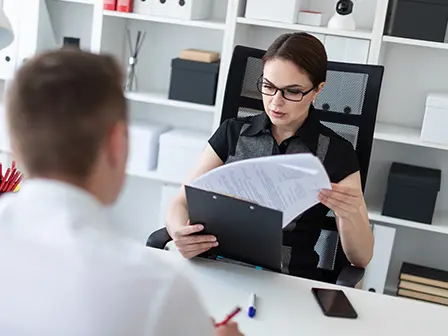 06 September 2023

10 December 2023
About this Course
Intellectual property rights is an invaluable asset to a business and the economy of the country at large. Identifying and protecting intellectual property is essential if the creator or owner of the IP wants to commercially exploit it. IP registration is therefore important to determine ownership of IP. This course brings out the procedural aspects of IP registration and the stages involved therein. It includes:
Prior art search
Preparing a checklist of documents required for filing different forms of IP
To familiarise with PCT filing
To familiarise with the timelines at each stage of IP filing
Types of office actions and responses to office actions.
What makes this module interesting is the hands-on experience of prior art search through workshop mode, detailed examination of patent specification and a detailed understanding of the stages involved in filing different forms of IP before the Registry. The objective of this module is to prepare you to be industry ready to take on IP filing.
Why Take this Course?
Law Students and Recent Law Graduates, Lawyers, In-House Counsels, Legal Professionals who wish to switch to IP law practice or looking to kickstart a career as IP Lawyers, Chartered Accountants, Company Secretaries, Cost & Work Accountants, Government Officials, Academicians, Managers, Chief Executive Officers, Company Directors, Prospective Entrepreneurs, may take this course. The course would help launch law students into a career in IP law and help practitioners develop their IP law practice. Business professionals, advisors and managers interested in a detailed legal understanding of how to procure a comprehensive IP profile for their organisation may also take this course to hone their legal skills.
Instructors
Dr Manish Badani
Dr Manish Badani is an IPR professional with more than 25 years of work experience in R&D and search analytics. He has worked with various types of IP search matters including patentability, risk assessment, invalidity and competitive intelligence in diverse areas including lighting, domestic appliances, healthcare and petrochemical sectors. He holds a PhD in chemical engineering from the Purdue University and has worked as a post-doctoral fellow at the University of Connecticut and the Pennsylvania State University. His experience includes working as a technical manager at Reliance Industries, as an R&D professional at GE Plastics and GE Silicones and as a senior IP analyst at Philips Innovation Campus. Currently, he is associated with LexOrbis as a consultant dealing with IP search matters.
Pankaj Musyuni
Pankaj Musyuni is a postgraduate in pharmaceutical sciences with a specialisation in drug regulatory affairs and pharma management. He is a registered patent agent and an advocate enrolled at the Delhi Bar Council. Having over ten years of experience, he has worked on a broad range of matters related to the regulatory framework for pharmaceuticals, medicinal products, pharmacology, nutraceuticals, agrochemicals, pesticides and public health products, nanotechnology and medical devices and regularly advise on patent filing, prosecution, drafting, legal and regulatory issues concerning therein. Mr Musyuni specialises in IP portfolio management, due diligence, litigation, IP strategy for technology and business strategy and provides opinions on validity, infringement analysis, enforcement, patentability and freedom to operate opinion along with providing counselling for innovation culture. He has several publications to his credit, and has also delivered lectures at various forums.
Gayathri Vivek
Gayathri is a registered member of the Karnataka State Bar Council. She specialises in corporate litigation. She is a registered trademark, copyright and designs attorney assisting her clients with the prosecution of the above by filing applications, countering oppositions and objections. Gayathri Vivek completed her LLB from KSLU after having received a Master's Degree in Business Administration, apart from acquiring a Post Graduate Diploma in Intellectual Property Rights (PGDIPR) from NLSIU, Bengaluru. Gayathri Vivek founded GV Law Associates in 2016, a firm that helps in drafting corporate and commercial agreements, trademark prosecutions and corporate litigation. She has been successful in resolving matters relating to IBC, real-estate disputes, trademark prosecutions and infringement.
Dr Pradeep Kumar Kamal
Dr Kamal is a registered advocate at the Bar Council of India and the Bar Council of Delhi and is a registered patent agent and has a collective professional experience of more than 21 years in teaching, research and IP. He holds a master's in biotechnology and management and a PhD in biomedical science. He has rich experience in drafting patent specifications, patent analysis, gap analysis, freedom to operate, patent prosecution and due diligence in patent matters. Dr Kamal specialises in patent appeals, oppositions, infringement/revocation and other contentious IP matters. He is involved in advising on technical and legal aspects of contentious IP matters for domestic and international clients. He has been the reviewer of "Cardiovascular Diabetology" and for the Indian Council of Medical Research, Government of India, research project proposals, IP Consultant with CSIR and is a recipient of the "Young Investigator Prize".
Sheetal Srinath
Sheetal is a graduate of the School of Law, Christ University (SLCU), Bengaluru. She also has an LL.M., with a specialisation in intellectual property law, from the University of Toronto, where she authored a thesis titled "The Copyright—Design Conundrum: An Enquiry into the Efficacy of Sui Generis Design Laws". Sheetal specialises in litigation and has, over the last six years, represented both domestic and foreign clients in diverse litigation before various fora and arbitrations. She started her practice in Chennai and is now practising in Bengaluru and Hyderabad—appearing before the high courts, city civil and criminal courts, tribunals and other authorities. While she focuses on corporate and commercial litigation, generally, she has valuable experience and specialises in IP matters, specifically, patent, copyright, and trademark related litigations. She also undertakes IP prosecution and represents clients before IP offices all over India. She also advises clients in transactions involving intellectual property, particularly transactions pertaining to film production, content creation for television, broadcast media and streaming.
Jayashree M Rattihalli
Mrs Jayashree M Rattihalli is a legal consultant, advocate, arbitrator & mediator and founder associate at Prolegis Associates, Mangalore. Her areas of expertise are commercial law, consumer law, alternative dispute resolution, POSH Act, and she also conducts trainings and workshops on the same. Mrs Jayashree is an empaneled arbitrator & mediator with the Indian Institute of Arbitration and Mediation, Dispute Resolution Forum, Mangalore and SAMA (ODRWAYS). She has served as legal consultant in Chamundeshwari Build Tech, Bangalore, JV Builders, Northernsky Properties, Mangalore, and as a cluster manager at Hinduja Housing Finance. Presently, she is associated with Shri Anantha Hari (OPC) Pvt. Ltd., ShriHari Tradelinks, ShriHari Translinks and a few more MNCs in Mangalore as a legal consultant. Mrs Jayashree holds an LL.B. degree from Bangalore University, an LL.M. degree from Karnataka State Law University and a Doctorate of Philosophy in Law (online) from Einstein International University, Wilmington, USA. As a part of her social engagements, Mrs Jayashree is founder member at EVOLVE Mangalore; founder member and trustee at Dispute Resolution Forum, Mangalore; founder member and trustee at Eldernet.
Preeti Tyagi
Ms Tyagi is a registered Indian patent attorney and holds a bachelor's degree in biomedical engineering and law. She is a registered Indian Patent Agent and enrolled at Delhi Bar Council. She has over 16 years of rich experience in drafting, filing and prosecuting across jurisdictions and forums like India, PCT, USPTO and EPO belonging to various branches of science with emphasis on biotechnology, medical devices, image processing, bio-instrumentation, nano-technology, laser & fibre-optics, polymers, and chemicals. She has substantial exposure in handling contentious and non-contentious patent matters. She works closely with several national and international clients in managing their patent portfolios. Apart from representing clients during prosecution and oral hearings on patent applications before Indian Patent Office, Ms Tyagi also assists in the prosecution of foreign patent applications. Further, she provides technical support during patent litigations and oppositions. She also handled patent analytics and search-related projects, such as patentability search, invalidity search, freedom to operate search/opinion and patent landscape. She is a regular speaker in various seminars/conferences and actively publishes articles, on various subjects related to patents.
Certificate
Complete this course and exercises to earn a certificate. Share it with your friends, colleagues, and employers.*
*You must Subscribe to get a certificate.