Intellectual Property Management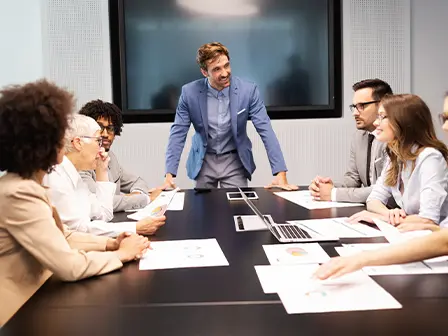 28 January 2024

02 April 2024
About this Course
Intellectual property is one of the most important assets of any business. Leveraging its potential involves well-structured management throughout its lifecycle. Managing large IP portfolios requires a good docketing system and due diligence. Businesses need to be constantly vigilant about IP commercialisation and potential IP infringements. This course covers the important aspects of IP management. It includes:
Kinds of commercialisation that an IP owner can explore to exploit IP
Role of IP firms in IP management
IP docketing
Legal and technical aspects of digital rights management
IP due diligence
IP valuation
The standout feature of this module is that you will be able to analyse how a company's IP portfolio is assessed based on financial, commercial and legal benefits. You will also develop an understanding of how IP firms and organisations, structure IP management and use different digital rights management tools to safeguard their IP in the largely vulnerable digital world.
Why Take this Course?
Law Students and Recent Law Graduates, Lawyers, In-House Counsels, Legal Professionals who wish to switch to IP law practice or looking to kickstart a career as IP Lawyers, Chartered Accountants, Company Secretaries, Cost & Work Accountants, Government Officials, Academicians, Managers, Chief Executive Officers, Company Directors, Prospective Entrepreneurs, may take this course. The course would help launch law students into a career in IP law and help practitioners develop their IP law practice. Business professionals, advisors and managers interested in a detailed legal understanding of how to procure a comprehensive IP profile for their organisation may also take this course to hone their legal skills.
Instructors
C R Jacob
Mr C R Jacob is a senior strategist for IP & business at LexOrbis, an entrepreneur, and a startup mentor. At LexOrbis, he regularly advises large and small organisations, and especially startups in their IP strategy and business strategy, IP prosecution, IP valuation, and IP commercialisation. He founded IP Astra, a boutique IP consulting firm later merged with LexOrbis. He was on the board of directors at BPE Biotree India Pvt. Ltd., a biopharma equipment manufacturer, now a member of the Zeta Group, Austria. He is also an investor in an eyewear startup. Mr Jacob regularly conducts IP sessions for startups at IIM Kozhikode LIVE—startup incubation centre. Mr Jacob has a BE and MTech in electronics and has done EPGBM from IIM Calcutta.
Meenakshi Chotia
Ms Chotia is a registered Indian patent agent and the Karnataka State Bar Council member. She holds a master's in Biochemistry and a bachelor's in Biotechnology and Law. She has 11+ years of rich experience in strategic business counselling on intellectual property matters, and she partners with commercial and scientific teams to develop comprehensive and cost-effective global IP portfolio strategies. She has represented multinational and domestic clients in India, PCT and global (including US, EP, JP, CN, KR, AU, CA etc.) patent drafting and prosecution. She also represents clients in prosecution & opposition hearings at the Indian Patent Office and matters with the National Biodiversity Authority of India. Meenakshi has expertise in conducting due diligence (search & analysis), handling oppositions, and third-party observations. She also has expertise in conducting various searches & providing opinions on matters including patentability search, freedom to operate search, invalidation search, equivalent search and landscape search. She represents a wide range of clients across the life-sciences sector, including fields of biotechnology, synthetic biology, chemistry, biochemistry, biopharmaceuticals, genetic engineering, medical diagnostics, immunology, therapeutics, microbiology, bioinformatics, materials science, textiles and polymer technology. She delivers seminars on various platforms on Indian patent law and patenting strategies.
Dr Shivani Shrivastava
Dr Shrivastava is a registered patent agent with over 16 years of experience. She holds PhD in bioinformatics, M.Sc. in plant science and an LL.B. She has also done an executive programme (TLPWE) from IIM Calcutta. Her technical areas of expertise include plant science, chemistry, biotechnology, biochemistry and medicinal products. She regularly advises clients on filing and prosecuting patent applications in India and foreign jurisdictions including the US, EPO, AU, NZ, etc. She works closely with clients and manages their IP portfolio. She has expertise in mentoring individuals, start-ups, SMEs and advising them on building IP strategy and portfolio management. She is also involved in various IP-related business deals, which include IP valuation, due diligence, technology transfer, licensing, etc. She regularly attends conferences and seminars organised by GIPC, FICCI, IPO, National Law Universities etc. discussing various national and international intellectual property issues. She published several articles and delivered lectures at various forums.
Ashok G.V.
A dispute resolution counsel, Ashok represents clients in the food and beverages, healthcare, pharmaceuticals, aerospace, defence and technology, banking and financial services, real estate and construction, e-commerce and hospitality areas, in domestic and international dispute resolution. His work in the field of Intellectual Property Rights involves not only advising and assisting clients in protecting and commercially exploiting intangible assets but also in representing clients in various IP litigations involving trademarks, copyright and trade secret/confidential information actions. He has also had the distinction of securing several John Doe orders in the enforcement of trademarks, in addition to working with clients on global IP protection and cross-border enforcement of IP Rights. Ashok is an invited speaker at the New Delhi-based independent think tank, the Observer Research Foundation, NLSIU Bengaluru, IIT Kharagpur, IIM Bangalore, NALSAR Hyderabad and GNLU Gandhinagar.
Sheetal Srinath
Sheetal is a graduate of the School of Law, Christ University (SLCU), Bengaluru. She also has an LL.M., with a specialisation in intellectual property law, from the University of Toronto, where she authored a thesis titled "The Copyright—Design Conundrum: An Enquiry into the Efficacy of Sui Generis Design Laws". Sheetal specialises in litigation and has, over the last six years, represented both domestic and foreign clients in diverse litigation before various fora and arbitrations. She started her practice in Chennai and is now practising in Bengaluru and Hyderabad—appearing before the high courts, city civil and criminal courts, tribunals and other authorities. While she focuses on corporate and commercial litigation, generally, she has valuable experience and specialises in IP matters, specifically, patent, copyright, and trademark related litigations. She also undertakes IP prosecution and represents clients before IP offices all over India. She also advises clients in transactions involving intellectual property, particularly transactions pertaining to film production, content creation for television, broadcast media and streaming.
Certificate
Complete this course and exercises to earn a certificate. Share it with your friends, colleagues, and employers.*
*You must Subscribe to get a certificate.