Insolvency and Bankruptcy Code Essentials — CIRP and PPIRP, 3rd Edn.
About this Course
We are delighted to present the third edition of our popular course on IBC basics. A strong conceptual foundation will help you take a giant leap in your career. Conceptual clarity is an absolute must to make strides in your career as an insolvency lawyer. This course will cover fundamental concepts of insolvency and bankruptcy, introduce you to financial and operational creditors as well as what is meant by financial and operational debt. You will also learn who is a corporate debtor. It will guide you on when and where you can move under the Code. This edition also covers recently notified and much-awaited pre-packs.
Today, certain people file for bankruptcy, businesses and individuals, and it no longer has the stigma it once had. Now it's almost considered wise, a way to regroup and come back again.
David Dinkins
1. Introduction

1.1 Introduction
I. Full text of leading cases

2. Understanding the objectives and key terms under the IBC

I. Relevant sections
2.1 Insolvency and bankruptcy
2.2 Operational debt
2.3 Financial debt
2.4 Creditor
2.5 Financial creditor and operational creditor
II. Examination pointers
III. Full text of leading cases

3. The IBC ecosystem

I. Relevant sections
3.1 Insolvency regulator and adjudicating authorities
3.2 Insolvency professional
3.3 Insolvency professional agency
3.4 Information utility, financial information
II. Examination pointers

4. Initiating the corporate insolvency process

I. Relevant sections
4.1 Triggers for Corporate Insolvency Resolution Process (CIRP)
4.2 Who can initiate the CIRP?
4.3 Who cannot file a CIRP application?
4.4 Where to file a CIRP initiation petition?
4.5 Procedure before the NCLT
4.6 Moratorium
4.7 Timelines for resolution process
II. Examination pointers
III. Full text of leading cases

5. Resolution process

I. Relevant sections
5.1 Committee of creditors
5.2 Voting share
5.3 Resolution applicant
5.4 Submission and approval of resolution plan
II. Examination pointers
III. Full text of leading cases

6. Liquidation

I. Relevant sections
6.1 Initiation of liquidation
6.2 Waterfall mechanism
II. Examination pointers

7. Pre-packs

I. Relevant sections
7.1 Introducing pre-packs
7.2 Eligibility for PPIRP
7.3 Pre-initiation phase
7.4 Application for initiation of PPIRP
7.5 Post-initiation phase
7.6 Approval of resolution plan
7.7 Closure of PPIRP
II. Examination pointers

I. Exercises

Exercise Set I
Exercise Set II

II. INDEX (FULL TEXT OF CASES)

INDEX: Full text of cases
WHY TAKE THIS COURSE?
Prior to the institution of the Insolvency and Bankruptcy Code, 2016, there were various overlapping laws and policies dealing with financial failure and insolvency of corporate institutions in India. The absence of structured timelines put undue stress on the Indian credit system. With a view to undertaking reforms and improving the business environment, the government introduced the Insolvency and Bankruptcy Code, 2016. The Code provides a robust legal framework, which aims to bring long-term reforms in line with global economic laws prevalent in advanced jurisdictions.
As a practising lawyer, it is essential to understand the nuances of this Code, which will further help you to understand the Corporate Insolvency Resolution Process. This course aims to keep you abreast with the Code, which has brought a paradigm shift in the insolvency resolution process. This course will be your guide in initiating the corporate resolution process as well as help in the filing of insolvency applications before the National Company Law Tribunal. This course is a practical guide for those preparing for the IBC practitioner exam.
This course is vital if you are a practising lawyer or transactional lawyer. If you belong to real estate, banking, legal, finance or insurance industry, knowing IBC is a sine qua non for survival.
This course, in simple and clear language, explains to you, the fundamentals and structure of IBC.
Join us on this journey to understand the framework of the Insolvency and Bankruptcy regime under the IBC, 2016.
In this course you'll learn to:
Understand the concept of corporate insolvency and pre-packaged insolvency
Differentiate between financial and operational debt
Examine and differentiate between the different types of creditors
Understand the changes brought about in the Insolvency process after the implementation of the Code
Look at the process of initiation of the insolvency process
Understand the liquidation process
Instructors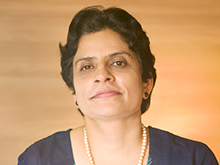 Dr Charu Mathur
Dr Charu Mathur who is an AOR with the Supreme Court. Dr Charu Mathur has rich and diverse expertise in corporate, commercial, civil, criminal and constitutional law matters. She has represented parties which include cricketing bodies and educational institutions like IIT Jodhpur, NLU Jodhpur, BPUT Orissa, MPUAT Rajasthan, private engineering and medicine colleges of Gujarat and Orissa. She also represents Hon'ble Allahabad High Court before the Supreme Court. On the non-litigation side of work she does corporate and general advisory, reviewing, redlining and drafting of agreements. She also undertakes due-diligence work related to solar projects in India and land due diligence work in Gujarat.
High bankruptcy rates, increased credit card debt, and identity theft make it imperative that all of us take an active role in providing financial and economic education during all stages of one's life.
Ruben Hinojosa
Certificate
Complete this course and exercises to earn a certificate. Share it with your friends, colleagues, and employers.*
*You must Subscribe to get a certificate.