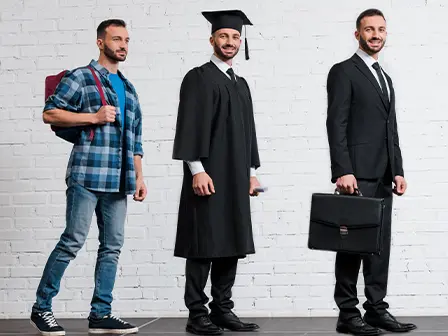 01 July 2023

13 September 2023
About this Course
The course on Evolution and Conceptual Analysis of Intellectual Property Rights covers the concept and evolution of IP. It will include the following:
(i) Nature and meaning of property
(ii) Is intellectual property 'property' within the meaning of Article 300A of the Constitution?
(iii) Does intellectual property affect human rights? If so, in what way?
(iv) How to identify comprehensive IP protection for inventions and innovations?
The live sessions will be based on the introductory module of the self-paced IPR course offered by EBC Learning. The class will revolve around some interesting questions and cases pertaining to the Constitution and IPR and the overlap of IPR and human rights.
The standout feature of the course is that it takes you through the elementary knowledge of the forms of IPR which is the foundation for an advanced understanding of the procedural and practical aspects of the subject.
Before Class 1 - 6 (Mon 1 May 2023, 5 PM)

Before Class 1 - 6 (Mon 1 May 2023, 5 PM)
Teaching Team
Course Discussions

1. 📕 Introduction

▸ 1.1 Introduction to the Course
▸ 1.2 Concept and Meaning of Intellectual property rights
▸ 1.3 Evolution of IPR
▸ 1.4 Rationale behind IPR
▸ 1.5 Economic Analysis of IPR

2. 📕 FORMS of IPR and Its Conceptual Analysis

▸ 2.1 Patent
▸ 2.2 Trademark
▸ 2.3 Copyrights
▸ 2.4 Designs
▸ 2.5 Geographical Indications
▸ 2.6 Plant variety protection
▸ 2.7 Semiconductor and Integrated Circuit Designs
▸ 2.8 Trade secrets, technical know-how

3. 📕 International Ip Regime

▸ 3.1 International Ip Regime
▸ 3.2 The Berne Convention, 1886
▸ 3.3 The Universal Copyright Convention, 1952
▸ 3.4 International Convention for Protection Of Performers, Producers Of Phonograms And Broadcasting Organization, 1961 (The Rome Convention)
▸ 3.5 The WIPO Convention, 1967
▸ 3.6 The Patent Cooperation Treaty, 1970
▸ 3.7 The TRIPS Agreement, 1994
▸ 3.8 Madrid System Concerning International Registration of Marks, 1989
▸ 3.9 Convention on biological diversity

4. Live Classes 1 - 6 (Mon 1 May 2023, 5 PM) 🔴

1. 📚 Reading Notes
2. ⚑ Live Class
3. ✒ Class Participation Assignment
Why Take this Course?
Law Students and Recent Law Graduates, Lawyers, In-House Counsels, Legal Professionals who wish to switch to IP law practice or looking to kickstart a career as IP Lawyers, Chartered Accountants, Company Secretaries, Cost & Work Accountants, Government Officials, Academicians, Managers, Chief Executive Officers, Company Directors, Prospective Entrepreneurs, may take this course. The course would help launch law students into a career in IP law and help practitioners develop their IP law practice. Business professionals, advisors and managers interested in a detailed legal understanding of how to procure a comprehensive IP profile for their organisation may also take this course to hone their legal skills.
Instructors
Dr Pratima Narayan
Dr Pratima Narayan is an Advocate, Mediator and Co-founder of Techlawlogi Consulting LLP. She is an Editor and Consultant at EBC Learning. She has offered courses on consumer law, arbitration, e-commerce, contract law and corporate law on the platform. She has authored a book on 'Electronic Commerce: Legal Compliance', published by Eastern Book Company. The book comprehensively outlines the various legal and regulatory frameworks and compliance for e-commerce players. Dr Pratima has served the legal academia for over two decades as a visiting faculty at various reputed law schools and business schools. Dr Pratima holds a Doctorate in Law from the National Law School of India University, Bengaluru.
Dr Charu Mathur
Dr Charu Mathur has rich and diverse expertise in corporate, commercial, civil, criminal and constitutional law matters. She is an Advocate on Record with the Supreme Court of India. She has represented parties which include cricketing bodies and educational institutions like IIT Jodhpur, NLU Jodhpur, BPUT Orissa, MPUAT Rajasthan, and private engineering and medicine colleges of Gujarat and Orissa.
Sheetal Srinath
Sheetal is a graduate of the School of Law, Christ University (SLCU), Bengaluru. She also has an LL.M., with a specialisation in intellectual property law, from the University of Toronto, where she authored a thesis titled "The Copyright—Design Conundrum: An Enquiry into the Efficacy of Sui Generis Design Laws".
Sheetal specialises in litigation and has, over the last six years, represented both domestic and foreign clients in diverse litigation before various fora and arbitrations. She started her practice in Chennai and is now practicing before courts in Bengaluru and Hyderabad. She regularly appears, in Bengaluru and Hyderabad, before the high courts, city civil and criminal courts, tribunals and other authorities.
While she focuses on corporate and commercial litigation, generally, she has valuable experience and specialises in intellectual property matters, specifically, patent, copyright, and trademark related litigations. She also undertakes intellectual property prosecution and represents clients before intellectual property offices all over India. She also advises clients in transactions involving intellectual property, particularly transactions pertaining to film production, content creation for television, broadcast media and streaming.
Certificate
Complete this course and exercises to earn a certificate. Share it with your friends, colleagues, and employers.*
*You must Subscribe to get a certificate.