04 January 2024

10 March 2024
About this Course
IBC consolidates all the laws related to insolvency in India by creating a single law. It helps to improve the confidence of banks, foreign investors, and associated companies in crisis-mitigation mechanisms.
The intensive course on IBC Practice contains the following:
IBC essentials
Initiating the insolvency process
Filing by operational and financial creditors
Insolvency resolution process
Fast-tracks and pre-packs
Liquidation
Insolvency litigations and related drafting
Cross-border insolvency
The course will take you through the various stages in the resolution process, commencing from inviting an expression of interest for the Resolution Plan to filing the Resolution Plan with the NCLT for its approval.
Through the course you will:
Know who can and who cannot be a Resolution Applicant.
Know the valuation requirements and application of various valuation methodologies.
Understand fast-track CIRP and the provisions related to cross-border conditions.
Learn how to file an insolvency petition as a financial creditor, operational creditor or corporate applicant.
Who should take this course?
Law Students and Recent Law Graduates, Lawyers, In-House Counsels, Legal Professionals who wish to switch to corporate practice or looking to kickstart a career as Transactional Lawyers, Chartered Accountants, Company Secretaries, Cost & Work Accountants, Government Officials, Academicians, Managers, Chief Executive Officers, Company Directors, Prospective Entrepreneurs, may take this course. The course would help launch law students into a career in corporate law and help practitioners develop their corporate law practice. Business professionals, advisors and managers interested in a detailed legal understanding of corporate affairs may take this course to hone their legal skills.
PREREQUISITES
This course is part of EBC Learning — CII, Upskill Diploma in Advanced Corporate Law Path. To make the most of the course, it is recommended that you should have an understanding of Company Law & Shareholder Litigation Fundamentals.
Instructors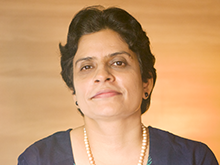 Dr Charu Mathur
Dr Charu Mathur has rich and diverse expertise in corporate, commercial, civil, criminal and constitutional law matters. She is an Advocate on Record with the Supreme Court of India. She has represented parties which include cricketing bodies and educational institutions like IIT Jodhpur, NLU Jodhpur, BPUT Orissa, MPUAT Rajasthan, and private engineering and medicine colleges of Gujarat and Orissa.
Abhishek Sharma
Abhishek is a Partner with Link Legal and has over 13 years of experience. He has substantial experience in handling disputes concerning the aviation sector (including airports) and in handling civil and commercial disputes in various fora, including the Supreme Court of India. He also routinely acts for clients in arbitration proceedings, both domestic as well as international. Abhishek regularly appears before the various benches of the National Company Law Tribunal as well as the National Company Law Appellate Tribunal in a large number of insolvency and company law matters. He also advises and represents clients in complex matters before the Competition Commission of India and the Competition Appellate Tribunal. Prior to joining the firm, he was an associate in the law chambers of Mr Arun Jaitley, Senior Advocate. He has also completed an attachment with Allen & Gledhill, Singapore. Abhishek is the Addnl. Joint Secretary of the NCLT and the NCLAT Bar Association.
Certificate
Complete this course and exercises to earn a certificate. Share it with your friends, colleagues, and employers.*
*You must Subscribe to get a certificate.